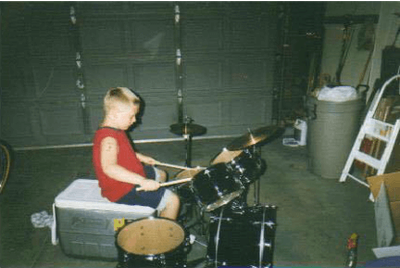 Anthony Friedli is a 25-year-old musician, producer, and event producer from the Chicagoland area. He is a co-coordinator of "Crystal Quest: Gems, Art, Music & Camping Festival", he is the host and founder of a weekly "Open Jam Night" in Cary, IL, he is a freelance studio and fill-in musician (primarily drummer), and he throws concerts of various types independently around the Chicagoland area.
Experience:
Multi-Instrumentalist:

Drums/Percussion (20 years)
Guitar (10+ years)
Piano (10+ years)

Event Production / Management Experience
Festival Productions / Promotion Experience
Online Marketing Experience
Promotions Management / Street Team Management Experience
Understanding of Music Theory
Experience with teaching private drum lessons
Experienced in working with DAWs
Audio Recording Experience
Touring Experience
Licensed Chicago Street Performer
Video Directing
Website Design
Independent Highlights:
January 2020: Featured band for an "Our Revolution" event, with speeches by State Senator Robert Peters and Alderman Andre Vasquez @ the House of Blues, Chicago
August 2019: Started a weekly "Open Jam Night" that ran for over a year, but ended due to the rise of COVID-19.
July 2019: Co-hosted and managed the first ever "Crystal Quest: Music, Arts, Gemstones and Camping Festival"
April 2019: Hosted the first official FriedAnt Production
March 2019: Featured talent / sound effects drummer in "CPW Presents: 'We Don't Play Fight': A play with actors and live pro wrestling"
July 2018: 2nd Place Winner in the 20th Annual Heat Strokes Drum Contest
September 2016: 1st Place Winner at two locations in the 27th Annual Guitar Center Drum-Off
April 2013: Won 1st Place at the Rise Records Battle of the Bands w/ The Levitated
Private Instruction:
2004-2008: Steve Fagiano (www.FagianoDrums.com); Accomplished independent drummer, percussion director, educator, and drum corps instructor
Has performed and/or played drums with bands such as:
Whüzy (09/2019-Present)
Portals (tour fill-in 2016)
Gravemind (01/2014-07/2016): www.facebook.com/grvmnd
I Killed Everyone (Pavement Entertainment) (02/2013-01/2014): www.facebook.com/ikilledeveryone
The Levitated (01/2011-02/2015): www.facebook.com/thelevitated
Light of the Architect (Age 15)
The Brotherhood (Age 14-15)
Paradigm Shift (Age 14)
Institutional Ensembles / Jazz Bands / Marching Bands / Drumlines:
William Fremd High School (2011-2012):

Marching Band (snare)
Drumline (snare)
Wind Ensemble (percussion)

Crystal Lake South High School (2009-2011):

Marching Band (snare), Drumline (snare)
Wind Ensemble (percussion)
Jazz Band (drummer)

"Classic Drumline" @ McHenry County College (2007-2010)(snare)
Lundahl Middle School (2006-2009):

Wind Ensemble (percussion)
"Monday Night Jazz Ensemble" (drummer)
[Some] Releases (Drums):
Gravemind: www.grvmnd.bandcamp.com
"Nothing What You Used To Be" (Re-done) Single (via Open Door Records)
"With The Wind Came The Rain" EP (via Open Door Records)

Home Is...
...Where We Leave You
With The Wind Came The Rain
Orchid
Doubts

"Angels With Dirty Faces (Sum 41 Cover)" Single (via Open Door Records)
"ASAU // GRVMND" Split EP (Released on 7" vinyl)(via Open Door Records)

Clockwork
Nothing What You Used To Be

"Scripture of Wolves" Single
"Reflect//Resolve" EP

Leviathan
Definition of Imperfection
Prolonging
Dearly Beloved
Delikatny
The Levitated: www.soundcloud.com/friedant/sets/the-levitated-2011
"Weapon Eyes" Single (2015)
"Progress/Process" Single (2014)
"Plunga" Single (2012; 16 years old)
Self Titled EP (2011; 15 years old)

...And the Desperate Rise
Abrading All Doubt
Antipathy
Dynamic Ascension
Famine
Now
Terrorize the Catalyst
Will You Tip It Over?
The Brotherhood: https://soundcloud.com/friedant/sets/the-brotherhood-2011
"In Our Own Worlds" Single (2011; 15 years old)
"Promises" Single (2011; 15 years old)
Paradigm Shift: www.soundcloud.com/friedant/sets/paradigm-shift-ep-2010
Self Titled EP (2010; 14 years old)

Light It Up
Lost Control
Searching
Force of Gravity
Through Diamond Clouds